L S Lowry 1887-1976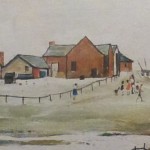 Laurence Stephen Lowry was born in Manchester in November 1887 and went on to become perhaps the most celebrated and best known twentieth century British artist.
L S Lowry attended drawing and painting classes at the Municipal College of Art in Manchester which went on to become the Manchester College of Art and was taught by the well known artist Adolphe Valette.
Lowry exhibited with the Manchester Academy of Fine Arts from 1919 and by the early 1930s he was exhibiting at the Royal Academy in London. He was awarded an honorary MA at Manchester University in 1945, and Doctor of Letters in 1961, elected to the Royal Academy in 1962, and given freedom of the City of Salford in 1965. He lived in Mottram until he died in 1976.
Lowry's original oil paintings are now widely sought after with the best examples fetching millions of pounds at auction when they are available.  The feverish demand for Lowry oil paintings has also been reflected in his signed limited edition prints which have appreciated dramatically in recent years.  The best L S Lowry limited edition prints such as 'Going to the Match' now fetch tens of thousands of pounds each with all good examples in great demand.  Condition and authenticity is crucial with these Lowry limited edition prinst so do contact the gallery to discuss your requirements if you wish to invest in L S Lowry prints.
James Lawrence Isherwood 1917-1989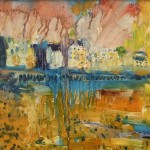 Born in Wigan, Lancashire in 1917, James Lawrence Isherwood was a fascinating and prolific impressionist/expressionist painter and one of a school of Northern artists who have continued to be collected long after their deaths.
Throughout his lifetime, Isherwood travelled extensively, hosting over 200 shows and taking inspiration from everywhere he visited as well as his native Wigan. Although Isherwood's subject matter was diverse, He is particularly collected today for his paintings of nostalgic townscapes and the characterful people that he encountered throughout his life.
Isherwood studied under the French impressionist painter, Adolphe Valette, known today as also being an influential tutor of L S Lowry. Lowry himself purchased a painting by Lawrence Isherwood which was photographed hanging on the wall of Lowry's studio and reportedly remarked, "I only buy art I like and I bought an Isherwood." Other well known collectors of Isherwood's northern art inspired works include Prince Charles, Sir Ian Mckellen and The Marquess of Bath.
William Turner
F.R.S.A., R.Cam.A

 1920 – 2013

William Ralph Turner, born in 1920, was the last of the great Northern Industrial painters.
He exhibited early, showing his work with impunity among the chief artists of Manchester. He first showed at the Manchester Academy in 1949 and continued to make contributions on many occasions thereafter.
One of his most individual qualities has been the ability to paint Manchester's most drab industrial area with a palette and handling of pigment associated with the Parisian paintings of Vlaminck. Whilst retaining classic elements of la belle peinture Turner's paintings never betray the atmosphere light and visual incidents of the northern industrial scene.
Turner's work is more and more widely collected and is in the collections of Sir Peter Ustinov, Sebastian Coe, Eddie Shah, Freddy Pye and Stockport Art Gallery.
Peter Wileman ROI
Peter Wileman is the President of the Royal Institute of Oil Painters along with being an Associate Member of the Royal Society of Marine Artists and a Fellow of the Royal Society of Arts.
Peter Wileman's great talent is painting light in his bold and vigorous style which has made his original paintings sought after and collected across the globe.
Born in 1946 in Middlesex, Peter Wileman's first job was as a studio junior for a card company, where his innate artistic talent was recognised. Here he spent five years studying lettering and design – his first artistic training – which gave him a solid grounding in colour awareness and formal structure.
Wileman's years of experience stood him in good stead and working freelance gave Peter the opportunity to concentrate on his painting, and he has produced a substantial body of highly expressive work inspired by Britain's coves and harbours. Peter's work has been recognised with various awards including the Frank Herring award at the